Get a new spin on your website performance data
Many analytical tools that monitor the performance of a website tend to rely on quantitative data, like percentages, statistics, and costs. To get a wider understanding of the whole user experience, we have started to implement a piece of software called Hotjar on our client's websites. Hotjar has a collection of tools to help gain a full understanding of user experience on your website
Heatmaps
One of the key features that Hotjar can provide is the ability to create heatmaps of people's clicks on your website. This provides a visual representation of where people are interacting the most, or where there is very little engagement with a certain link or button.
We recently utilised this feature in the design of our client's new navigation bar. The heatmap tool allowed us to see which links got the most clicks and were worth keeping and which could be removed.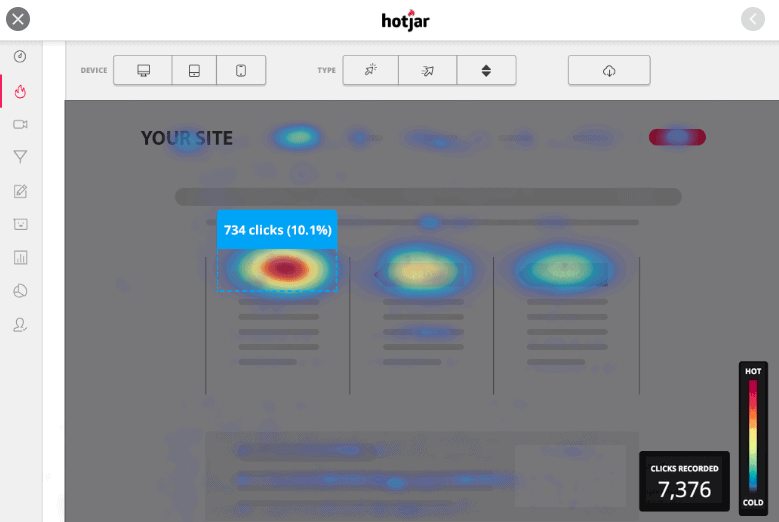 Visitor Recordings
This is a real stand-out star of Hotjar's functionality. This tool records anonymised visitor interactions with the website throughout their whole journey; from entry to exit and everything in between. If people are having trouble interacting with a certain part of your website, it will show up in the recording. This works for both desktop and mobile so you can compare user experience across both mediums.
Polls and Surveys
If you're looking for direct user feedback, Hotjar also allows you to design, create and publish polls and surveys to your webpage for visitors to complete in real-time. You can customise when and where they pop up and to who, so you are able to target those whose feedback matters most to you.
Hotjar is a fantastic tool that we have been fully utilising at Landon Marketing & Design.
Our clients have also found it very interesting to get a new spin on their website performance data. If you're interested in finding out how we can use tools such as Hotjar to improve your website engagement, get in touch and we'd be happy to talk through your options.